CSR
Corporate Social Responsibility
Communication with companies & community
At RENAISSANCE, our starting point is a sports club, and we support the "Health and Productivity Management" of companies, insurers, and other local municipalities in each community providing everybody in every age bracket with "delightful and proper health promotion," and helping to create something for each and every individual to live for. We broaden the sense of community among the companies and community members, help people carry out a lifestyle that keeps all those working in an area full of energy and in good health, and carry out a variety of initiatives.
Assisting in health improvement for working people through promotion of companies' Health and Productivity Management
Right now, many companies are implementing "Health and Productivity Management." This is a means of promoting good health among employees from a management perspective that is implemented in a strategic fashion. Also, the initiatives of "Health and Productivity Management" are not limited to simply reducing the costs for medical care. In fact, they can also be effective for improving employee productivity and creativity, as well as the company's image, and for this reason, these initiatives are considered important for companies' risk management.
At RENAISSANCE, we support companies' Health and Productivity Management and help promote better health.
[Related link]
Initiatives for achieving a healthy life expectancy in coordination with other companies
In May 2014, this company formed a business partnership with LAWSON, Inc. ("Lawson"). By linking Lawson's "delicious and healthy meal solutions" with this company's "training knowledge," we are involved in initiatives such as "Health and Productivity Management services." Also, in May 2015, we formed a business partnership with NTT DOCOMO INC. ("Docomo"). We manage the physical and health-related data possessed by Docomo, and are working toward activating a platform business for making use of this data, linking it with facilities such as our fitness clubs, and providing new health care services with the goal of promoting health among guests.
Also, in June 2015, we formed a business partnership with Community Net, Inc. for a nursing care business, and in June 2016, we launched a capital tie-up with the same company. In the future, we will be collaborating on creation of community activation models and health initiatives for seniors. At RENAISSANCE, we will continue to form partnerships with companies in other industries for the purpose of taking on health problems we can't solve alone, contributing to the achievement of the society for having a healthy extended lifespan that is Japan's goal.
Also, our company is proactively supporting diffusion and education related to the Health and Productivity Management initiatives of various other companies, and holds a "Health and Productivity Management meeting" every year as the executive committee for these projects. This Health and Productivity Management meeting contributes to extend healthy life expectancy for the citizens of Japan through the promotion of Health and Productivity Management alongside the Health and Productivity Management support organizations of the country, knowledgeable people, and companies.
*" Health and Productivity Management" is a registered trademark of NPO Workshop for the Management of Health on Company and Employee.
Invigorating communities through community health improvement
At RENAISSANCE, we are involved in initiatives such as supporter training to expand activities within communities and assistance for community members to proactively work toward preventive care. Also, we manage our classrooms with the motto "safe, fun, and effective," and are working to assist participants with communication and forming new friendships.
[Related link]
Example of Revitalization of a Local Community
In addition to sports club management, we participate in community events and clean-up to proactively build communication with the community members.
Example 1) Sports Club & Spa Renaissance Kumamoto Minami: "Participation in a Festival in the Harutake Area"
At the Kumamoto Minami club, we participate in the local festival as a supporting company in order to help health improvement for the community members. We hand out lesson tickets and lost tennis ball coupons to participants at the venue, carry out a raffle for invitations to our facility, and promote opportunities for starting an exercise program. The festival is held in the summer every year, and lots of students in our swimming and tennis schools come as well, so it deepens the bonds and interaction between these students and their coaches as well. Participating in community events is an important activity that gives us the opportunity to communicate with people from the area and also provide an impetus for health improvement.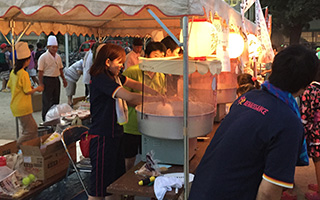 Example 2) Sports Club Renaissance Sendai Izumi-chuo "Participation in the Cleaning for the Entire Izumi Ward"
At the Sendai Izumi -chuo club, as part of welcoming guests to our facility, we clean both the interior and the exterior surroundings, and participate in the community (Izumi Ward) cleaning event held twice a year out of a desire to keep the area clean. There is a street called Daffodil Road (Suisen-dori) in front of the facility with flower beds set up along it, and all the students at the local Nanakita Elementary School have been continually taking care of these flowers ever since the earthquake. Participation in the community cleaning event is an important opportunity for us to make sure everyone can keep enjoying the beautiful sight of the blooming flowers when they walk along the street.