CSR
Corporate Social Responsibility
Communication with companies & community
Renaissance supports the promotion of "health and productivity management" by companies, insurers, municipalities, etc. in all communities, and promotes "enjoyable and appropriate health building" among people of all generations and extends assistance to the "creation of motivation to live" for all persons. We are also engaged in a comprehensive range of initiatives to ensure that we can expand communities with companies and local residents and enable the working people and local citizens to lead a healthy and lively life.
Promoting health and productivity management, realizing "the extension of a healthy life expectancy" and "the achievement of an ageless society"
Japan has become a nation where people live the longest. At the same time, affected by, for example, an increase in expenses for the public medical support system and a decrease in the working population, it has become rather difficult to maintain the social security system as-is or increase the economic growth rates.
As a company working with a philosophy of being a "company for creating a purpose in life," Renaissance works in tandem with public agencies, municipalities, etc. to actively support health and productivity management tackled by companies, and through the realization of the extension of a healthy life expectancy and achieving an ageless society, we hope to play a part in making Japan become a country where people can enjoy their longevity that the world aims for.
Supporting operations as Secretariat of the Health and Productivity Management Conference
Renaissance has been appointed the Secretariat of the Health and Productivity Management Conference and is working together with public agencies, municipalities and companies, supporting their operations. In recent years, the conferences took place in Tokyo, Yokohama, Kobe and Kamakura.
Sponsoring the Study Session for Health and Productivity Management Practice
We support the practice of health and productivity management through the introduction of cases by pioneer companies that offer cutting-edge information about health building, as we tackle health and productivity management.
Supporting enlightenment activities of the health and productivity management
Approving the purpose of the Workshop for the Management of Health on Company and Employee and as a partner company, Renaissance supports enlightenment activities of health and productivity management, which is conducted by them.
Also, as a member of KENKO Business Association and aiming at working together to promote health and productivity management and contribute to an extension of a healthy life expectancy, we are very much involved in initiatives to upgrade health and productivity management.
Solving health issues in the community and aiming for the extension of a healthy life expectancy
With the motto of safe, enjoyable and effective, we support initiatives for preventive care and health building that are conducted by local municipalities. We also address various challenges such as the development of supporters so that they can assume a role of assisting with the health building of local residents.
Invigorating communities through community health improvement
At RENAISSANCE, we are involved in initiatives such as supporter training to expand activities within communities and assistance for community members to proactively work toward preventive care. Also, we manage our classrooms with the motto "safe, fun, and effective," and are working to assist participants with communication and forming new friendships.
Example of Revitalization of a Local Community
In addition to sports club management, we participate in community events and clean-up to proactively build communication with the community members.
Example 1) Sports Club & Spa Renaissance Kumamoto Minami: "Participation in a Festival in the Harutake Area"
At the Kumamoto Minami club, we participate in the local festival as a supporting company in order to help health improvement for the community members. We hand out lesson tickets and lost tennis ball coupons to participants at the venue, carry out a raffle for invitations to our facility, and promote opportunities for starting an exercise program. The festival is held in the summer every year, and lots of students in our swimming and tennis schools come as well, so it deepens the bonds and interaction between these students and their coaches as well. Participating in community events is an important activity that gives us the opportunity to communicate with people from the area and also provide an impetus for health improvement.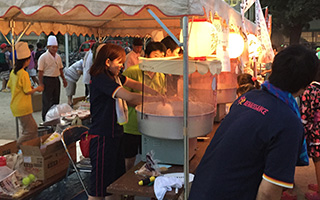 Example 2) Sports Club Renaissance Sendai Izumi-chuo "Participation in the Cleaning for the Entire Izumi Ward"
At the Sendai Izumi -chuo club, as part of welcoming guests to our facility, we clean both the interior and the exterior surroundings, and participate in the community (Izumi Ward) cleaning event held twice a year out of a desire to keep the area clean. There is a street called Daffodil Road (Suisen-dori) in front of the facility with flower beds set up along it, and all the students at the local Nanakita Elementary School have been continually taking care of these flowers ever since the earthquake. Participation in the community cleaning event is an important opportunity for us to make sure everyone can keep enjoying the beautiful sight of the blooming flowers when they walk along the street.