Sustainability
Corporate Social Responsibility
Relationship with employees
In RENAISSANCE's corporate philosophy as a "Company to create something to live for," we contained a message in hopes to create fulfilling lives for not only our guests but also our employees through our work. In addition, the keywords for our Behavioral guidelines include "hospitality," "diligence," "contributing to society," "devotion to one's work," and also to seek out something we, too, can live for.
5 important values at RENAISSANCE
Important values that are treasured by staff members working at RENAISSANCE
5 important values at RENAISSANCE
Health

To support the health of our guests, we must first make efforts to develop a healthy mind and body both for ourselves and our surroundings.
Hospitality

For guests, coworkers, clients, and other people we interact with, maintain a considerate, hospitable, and compassion mindset.
Challenge

Don't be satisfied with the way things are now, but instead aim higher and proactively work toward improvement and creation.
Teamwork

Take on a leading role for yourself, work for those around you, pool your resources with theirs, and achieve results you couldn't on your own.
Striving for Results

With compliance as a prerequisite, don't give up, and earnestly insist on the final result you're trying to achieve.
Promote KENKOKEIEI "Health and Productivity Management"
In order to achieve our corporate philosophy, "Proposing a healthy and comfortable lifestyle to the guests," it's essential for employees to be healthy in both mind and body and also for them to work energetically. At RENAISSANCE, we have implemented a health management strategy which is a system that supports employees' health while also contributing to good results for the company's business. Toshiharu Okamoto Representative Director, President and Corporate Officer, was appointed to the position of CHO (Chief Health Officer), launching RENAISSANCE's health management strategy initiative.
RENAISSANCE KENKOKEIEI "Health and Productivity Management" declaration

Based on RENAISSANCE's corporate philosophy as a "Company to create something to live for," we are working on initiatives for creating a meaningful life for all of our guests through healthy living.
In order to achieve this goal, the first step is ensuring that all employees maintain their health in both mind and body as professionals in this industry, and also seek out something to live for. We consider this to be the most important thing within our Behavioral guidelines and guidelines for human resource ideals.
Based on our Health and Productivity Management declaration, we are providing a new level of proactive health management and organizational work improvement measures and contributing to society by helping our guests create something to live for.
Certifications
Renaissance has been certified as a White 500 company under the 2021 Certified Health and Productivity Management Organization Recognition Program, in addition to becoming a Sports Yell Company.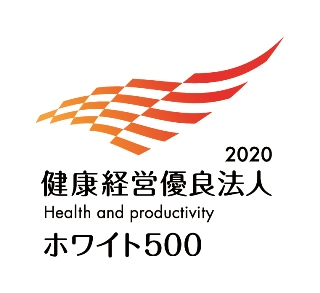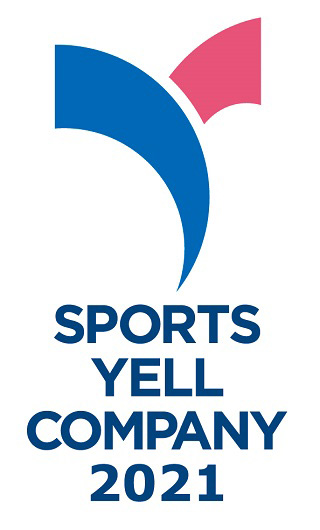 [Related link]
Organizations
We have launched the Health and Productivity Management Promotion Committee centered on top management and officers of individual businesses and functional divisions, thereby establishing a system to enable each business and functional division to be independently involved, promote cooperation, and improve executive power. The activities of the committee include the sharing of priority measures for each fiscal year as well as discussions on challenges and initiatives that businesses and functional divisions will face or take on. As an advisor, Dr. Kunio Okada, Chief Director of the Nonprofit Organization Kenkokeiei, was inaugurated as industrial physician.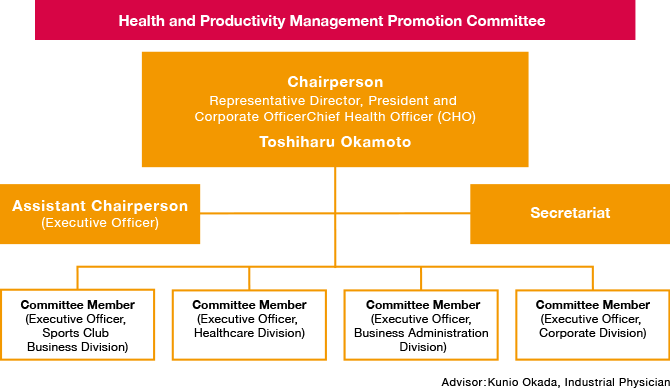 Priority Measures
- Promoting KENKOKEIEI "Health and Productivity Management" and the improvement of employees' health awareness
- Implementation of health improvement measures with regard to exercises, dietary habits, recreation, etc.
- Realization of highly productive workplaces that are full of vitality as a result of work style reforms
- Turning PDCA cycles through evaluations and improvements of KENKOKEIEI "Health and Productivity Management" measures
Specific Initiatives
Implementation of health improvement events
As efforts to improve lifestyle habits, the health advisory application, "CALOmama PLUS," has been introduced across the company. While regularly holding competitions between departments (participated by the Chairman and President and Executive Officers) to compete for good health scores as they relate to exercise and diets, we review and improve our lifestyle habits as a company. All results are published in the in-house journal and at morning meetings, thereby sharing the efforts made by high-ranked teams and to hold internal recognitions.
More than 90% of our employees have downloaded this health advisory application, "CALOmama PLUS," which is also utilized by sports club members and corporate customers.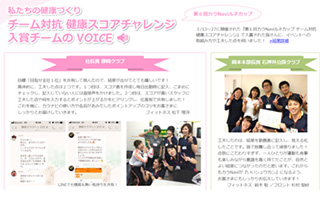 Health score challenges serve not only as a review of lifestyle habits but also as a chance to promote communication across teams. (News carried in the in-house journal.)
Putting the establishment of healthy and highly productive workplaces into practice
To realize a healthy style of working for shift work, we have established the Interval System, while also introducing a system to permit a break of a maximum of two hours so that employees can take a nap or go training at a gym.
[Related link]
Diversity & Inclusion Promotion
With comprehensive sports clubs at its core, RENAISSANCE has extended its line of business through diversification and globalization, such as health improvement support for municipalities and companies, development of healthcare-related businesses including nursing care and rehabilitation, and entries into overseas markets that play a key role in health improvement and sports promotion in emerging countries in Asia such as the operations of fitness clubs and swimming schools in Vietnam.
To secure and develop human resources to build an organization that enables sustainable growth, "Diversity & Inclusion Promotion" is positioned as one of our most essential management strategies.
Fundamental Guidelines for "Diversity & Inclusion Promotion"

As a "company for creating purpose in life," RENAISSANCE considers the "Diversity & Inclusion (herein after referred to as D&I) Promotion" one of its important management strategies.

We create new values by leveraging individual differences such as gender, age, nationality, sexual orientation, gender identity, disabilities, values, and culture.
We will create an organization where the strength of each employee can be leveraged to their maximum effectiveness by accepting differences and building up trust, cooperation, and meaningfulness at work.
Through the D&I promotion, we can achieve innovations that will handle the diversified needs of the marketplace, improving our corporate value.
Dedicated organization, D&I Promotion Team
Since its establishment in FY2014, the D&I Promotion Team has been promoting initiatives as a dedicated organization.
Promotion of Women in the Workplace
Promoting women in the workplace is not limited to activities targeted to women themselves. It also requires initiatives for men such as participating in childrearing and changing working style, activities to improve awareness and culture within the company as a whole. Based on the fundamental principle of promoting D&I, we have established a plan for independent action to promote women in the workplace, and are working toward its implementation.
Principles for Promotion of Women in the Workplace

We, in order to achieve our objective as a "company for creating purpose in life," promotion of D&I is an important strategy.
The promotion of women in the workplace is an indispensable theme for improving corporate value, and our entire organization is proactively working toward it.
By increasing women's activities, we can handle the diversified needs of the market and promote
innovation.
Independent action plan related to the appointment of a female executive or manager.
[Goals]

1.Female employees find their work worthwhile and put their skills to work actively.
2.Achieve a highly-productive working style that also maintains a good work-life balance for both male and female employees.
3.Use the activities of female employees related to decision-making to improve competitiveness and the stability of management.
[Quantitative targets]

1. Manager ratio: 18%
2. Leaders (subsection chiefs or equivalent) ratio: 40% *FY2023
[Initiatives]
Communication with management
■Opinion exchange meetings between female employees and management (roundtable discussions)
We establish opportunities for face-to-face communication between female employees and management to, for example, share the current status of female employees' work-life balances and exchange opinions on the initiatives of D&I promotions.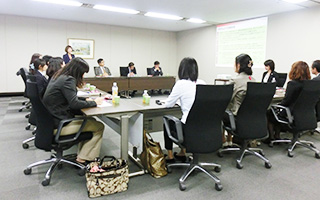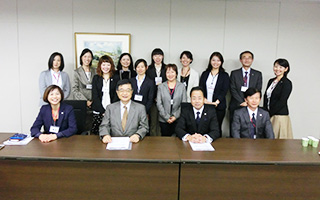 Improvements of career development awareness
■Career design training
We conduct career design training for employees in three-year intervals for a total of three times, starting in their third year of employment. This is to raise awareness about their career continuity and career development, and to take precise actions at an early stage of their career formation.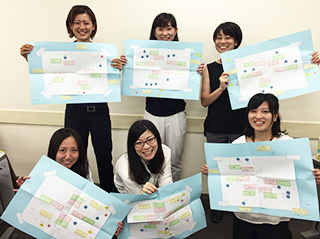 ■CDP (Career Development Program)
We establish opportunities for employees to report their career development plans going forward to the company and managers every fiscal year.
■Career interviews
Based on the career development plan reported by each female employee, there is an interview with their manager, thereby making the scope of responsibilities and skills development more specific.
Managers' awareness reforms
■Manager training
As an initiative to promote D&I, we regularly host training for managers as key persons in the workplace.
We also integrate unconscious bias training for senior managers into the program.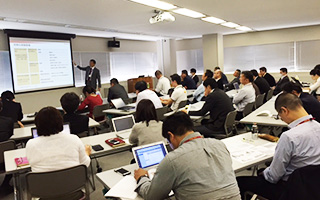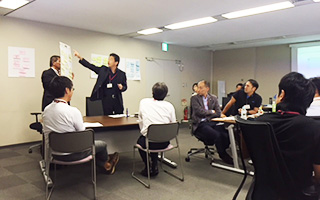 ■Participation in IkuBoss Corporate Alliance
RENAISSANCE is a member of the IkuBoss Corporate Alliance, which is promoted by the NPO Fathering Japan and embraces the IkuBoss declaration by managers, thereby making efforts to develop managers for a new age and create an environment where all employees can play an active role.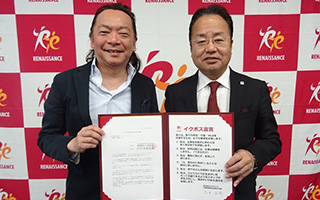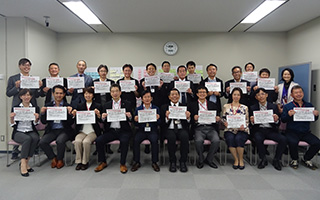 Company's initiative to support the balance between working and child-rearing
■Mechanisms to support the balance between working and child-rearing
- Child-rearing leave: Can be taken until a child turns 2 1/2 years old.
- Child-rearing short working hours: Working hours can be reduced by one or two hours until a child is in third grade at elementary school.
- Babysitter expense subsidy: The company subsidizes the expense up to a maximum of 20,000 yen/month per child to support working at nights or during hours when nurseries are closed.
- YLP (Your Life Plan) leave: Such leave systems are available for Infertility treatments, gender reassignment surgeries, or hormone treatments.
- Paid leave by the hour: Employees can take leave on an hourly basis up to five days' worth.
■RenaiFami Plus
- Networking system for employees during child-rearing that is aimed at realizing work styles in view of future career formation, while building relationships to enable those involved to mutually consult and support.
- We regularly host RenaiFami Plus Forums that assemble child-rearing female employees from across Japan. Exchanges are continually promoted by hosting the event online and utilizing social media and other communication tools.
- Female employees engaged in work and child-rearing including those who are certified as a post-parental leave advisor* support the compatibility of work and child-rearing by giving advice to those who are on or following child-rearing leave.
*The post-parental leave advisor is a certified development course hosted by the NPO Women á Work Research Center.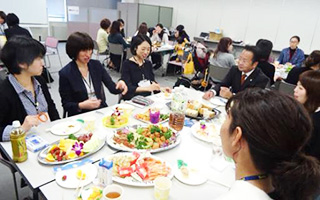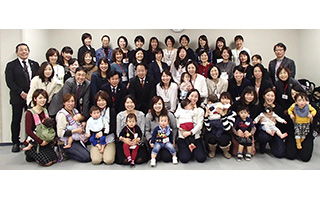 ■Opening of Mama Square Ryogoku
We opened an unlicensed nursery, Mama Square Ryogoku, at the Head Office. It is utilized as a nursery that is connected to the office.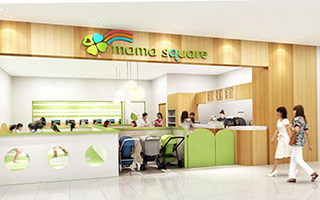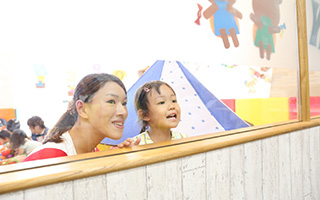 Promotion to take child-rearing leave by male employees
■Promotion of supporting child-rearing
In addition to promoting active roles of female employees at workplaces, we are simultaneously promoting active roles to be played by male employees at home.
We set a target of a 100% acquisition rate for male employees taking child-rearing leave and introduced a system to make short-period child-rearing leave paid leave.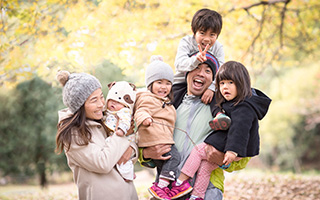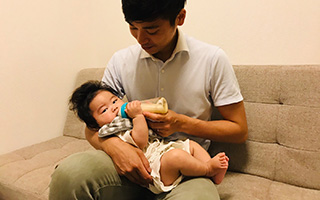 *Renaissance was selected for the Nadeshiko Brand, which is jointly sponsored by the Ministry of Economy, Trade and Industry and the Tokyo Stock Exchange, as the first company recognized for promoting active roles of women in business and the fitness industry.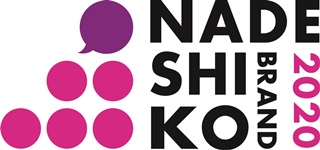 [Related link]
Latest data
■Number and ratio of female officers

■Ratio of female managers

■Ratio of female employees


■Acquisition rate of men taking child-care leave
Hiring for the Disabled
RENAISSANCE staff members include a variety of different types of people ranging from athletes who have appeared in the Deaflympics to business-minded people who want to be a part of a growing industry and there are employees working for the company that have a wide range of different ideas. The environment allows staff to get a sense of personal growth while maintaining an awareness of guest goal achievement and changes. By elevating the value of each individual, this system provides growth and meaningful work.
Number of Disabled Employees (Count) and Employment Ratio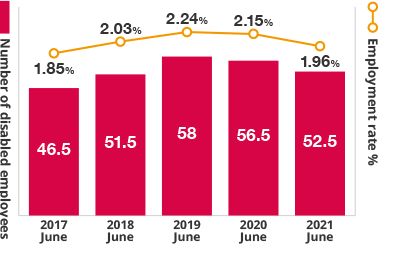 Disability type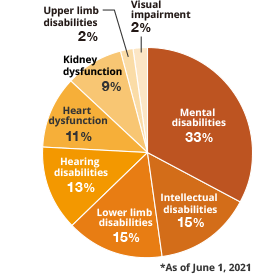 LGBT
As a means to acquire proper knowledge and raise the awareness necessary for LGBT staff management, training is conducted for all managerial staff, while e-learning is carried out for all employees. We are striving to install a workplace where all employees can mutually recognize diversity and play active roles.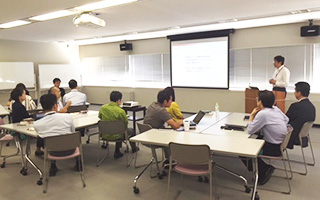 Personnel Training for Global Expansion
By taking advantage of our vast experience and expertise in Japan, we develop local staff members, aiming to provide services with a quality equivalent to that of Japan at directly managed fitness clubs and swimming schools in Vietnam.
Japanese staff members teach a wide variety of operations, including instructions for swimming, training, and studio lessons, as well as reception and facility guidance, all the while improving on cultural exchange. We aim to instill the concept of and mindset behind Japanese hospitality and its culture of high quality into local staffs for all business operations conducted by them in the future.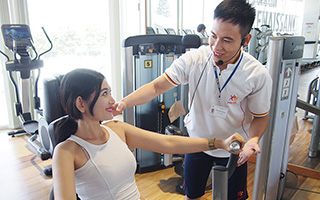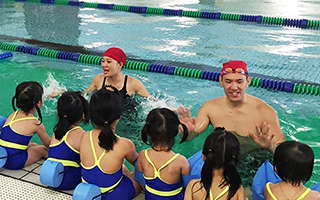 [Related link]
Regular reviews of work styles
Telecommuting system
To realize more-productive and more-flexible work styles, employees can take advantage of a telecommuting system while out of the office and at home, etc.
Self-selective staggered work shifts
Employees working at the head office can choose a time to come to work between 8:00 and 10:00 a.m.
System of permanent employees for designated areas
We have an area employee system in which employees will have no job relocation accompanying a change of residence or will have a limited designated area to work in, thereby offering an environment where they can play an active role based on their own life design.
Side jobs
Side jobs and side business are allowed based upon an application process and permission.
Workation
Renaissance allows telecommuting during long vacations, thereby enabling new work styles for work while enjoying vacation.
Career design vacation
Employees can take vacations for up to three years to study overseas, engage in overseas volunteer activities, study at a university or graduate school, or for the job relocation of a spouse.
Aiming for Best Workplaces
RENAISSANCE participated in the "Best Workplaces 2020" survey run by Great Place to Work ® Institute Japan (GPTW Japan), and was selected as the best company in the large company category for the 8th year in a row.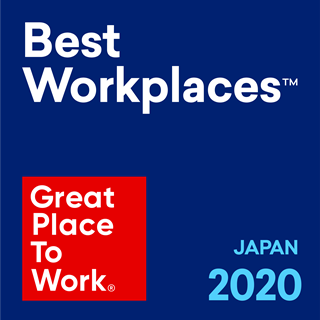 To continue to remain a worthwhile workplace, Renaissance undertakes a comprehensive range of measures.
Business development study program outside the company
The objective of this program is to utilize human resources with strengths in their specialized fields and to take advantage of their know-how in health improvements and hospitality services by tackling challenges to be solved at a posted company or an organization and meet their expectations as an immediate asset. Another objective is to enable employees who have had new experience or knowledge through such initiatives to create opportunities for new business developments.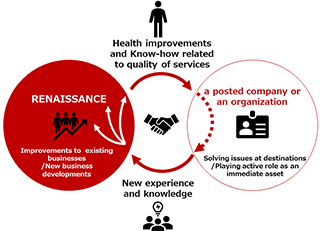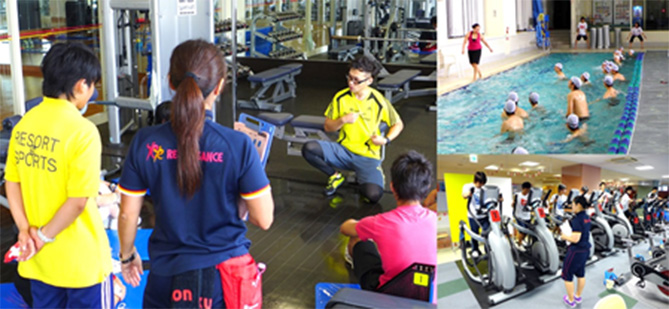 Internal Club Activities
1st Japan Amateur Swimming Championships (2018): Renaissance Women's Swim Team won first place.
2nd Tokyo Amateur Team Swimming Championships (2019): Renaissance Women's Swim Team won first place.
Tokyo Region Kigyo Taiko Ekiden (2019)
Women's Division: Renaissance Women's Ekiden Team won first place.
Men's Division: Renaissance Men's Ekiden Team won third place.
57th All Japan Industrial and Commercial Tennis Competition (Business Pal Tennis) (2018): Renaissance Men's Tennis Team won first place.
34th Kanto Industrial and Commercial Tennis League (2019): Renaissance Women's Tennis Team won first place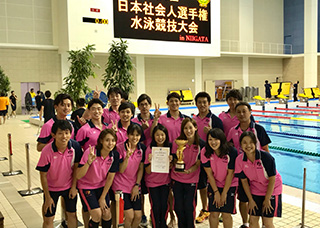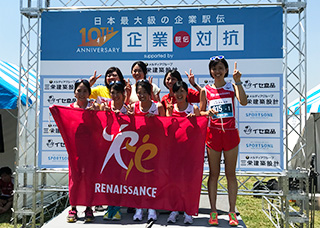 [Related link]
Best Staff Member Contest
Since 2014, the staff members of Sports Club Renaissance across Japan have hosted an annual Best Staff Member Contest for the purpose of sharing best practices toward creating guests emotional satisfaction and the mindset to create such, as well as to improve the standard of guest service and to ensure that the many people associated with Renaissance are pleased. Staff members from the front lines, from fitness, and from the swimming and tennis sections win their way through qualification rounds on an area basis and compete in a final round to decide on the best staff member from each section (four persons).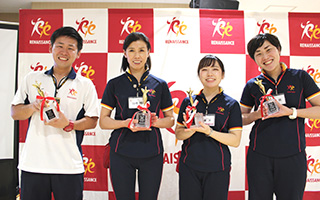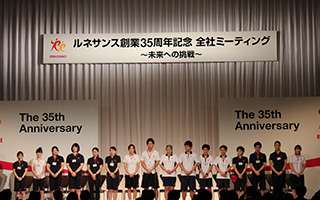 [Related link]
Internal Award Structure
Awards are given to staff members that have contributed to Renaissance through work such as achievements in business, life-saving, and community contributions.