Message from the Leader
To our Shareholders and Investors
We extend my heartfelt gratitude to all our shareholders and investors, who have consistently shown our businesses their understanding and support and who have shown great favor to our sports clubs and other facilities.
Message from the Chairman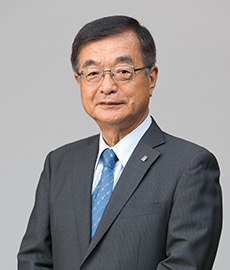 Our company was founded in 1979, and was able to celebrate its 40th anniversary in 2019.
I define the spirit of our foundation as "realize an ideal society by promoting health to our customers, which is our source of energy and passion, aiming for the recovery of humanity against a controlled and excessively materialistic society." I consider the "Renaissance," as the cultural movement that took place in the 14th to 16th century in Europe that revived classical art and intellect, as a "recovery of humanity," and adopted this name for the company and our facilities.
In Japan, during the 1980s, it was the beginning of the sports club business, a leisure industry with young people as its main customers. However, from the 1990s, the participation of middle-aged women began to become more noticeable. In the 2000s, participation by seniors drastically increased, thereby transforming sports clubs into places of promoting health. At the same time, we have worked together with The Ministry of Health, Labor and Welfare and The Ministry of Economy、Trade and Industry, recently also with the Japan Sports Agency and have made various efforts to solve social problems not only promoting health but also disease prevention and care prevention and promotion of health and productivity management in companies.
Today, COVID-19 has caused a big change to our society.
In fitness business, Fitness Industry Association of Japan has worked with experts and health centers and rapidly made the guideline for fitness business to prevent the spread of infection. So the new style to do the fitness safely at sport clubs has been made.
As well, especially the new style of working, service and communication which utilize online have been accelerating and we make efforts the growth of the service which utilize the digital technology like online lessons or online shops as well. By doing this, the possibility to offer "health" or "the purpose of life" to not only people who come to our facilities but to more people has expanded.
Sports-related business operators like our company are expected to play a leading role more than ever for that people create their life keeping healthy mind and body in this turning point of the time. We are determined to move forward without forgetting the spirit of our foundation so that we will continue to contribute to building people's health and promote sports with even more growth opportunities going forward.
Toshikazu Saito
Representative Director, Chairman,
and Corporate Officer
Message from the President
From 2018, The Renaissance group has a long-term vision of becoming a "sports and health solution company that is demanded and needed in Japan, Asia and the entire world, which is based on our experiences as a sports club operating company." and try to expand the business field.
Because of the expansion of COVID-19, the social environment has changed enormously and it becomes imperative to correspond new social problems like secondary health damage or dilution of society.
We are going to change the way of sports clubs adapting to the social environment, focus on business expansion at the field of health care business with long-term care rehabilitation and supporting local government bodies and companies in their health promotion activities and correspond social problems and various needs.
From now on, we think it is important to establish the new value innovating outside knowledge and promoting the cooperation with various companies and local governments. We are going to challenge without being stuck in the stereotypes and connect "change" to "evolution".
Thank you in advance for the continued patronage and support from all our stockholders going forward.
Toshiharu Okamoto
Representative Director, President,
and Corporate Officer