Message from the Leader
To our Shareholders and Investors
We extend my heartfelt gratitude to all our shareholders and investors, who have consistently shown our businesses their understanding and support and who have shown great favor to our sports clubs and other facilities.
Message from the Chairman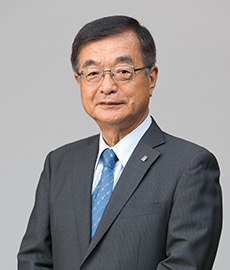 2019 will mark 40 years since the establishment of Renaissance in 1979.
The founding spirit of Renaissance embodies the idea of "realizing the ideal society by providing health—a source of energy and passion—with the goal of revitalizing humanity within our overly controlled and materialistic society." Operating under the name RENAISSANCE, our company and its facilities are inspired by the period of artistic and humanistic revitalization that occurred between the 14th and 16th centuries in Europe.
The 1980s marked the dawning of the sports club industry in Japan, a leisure industry that was mostly the domain of younger people. Middle-aged women started taking part in around 1990 and there was a sharp rise in participation by seniors in the 2000s. Nowadays, sports clubs have become places to achieve better health. In October 2015, the Japan Sports Agency was established. The agency has a number of programs in the pipeline, including improving citizens' health through more sports activities, revitalizing communities and economies through sports, and providing more opportunities for school children to become involved in athletic activity, as well as bolstering Japan's international sporting competitiveness. And now the 2020 Tokyo Olympic and Paralympic Games are almost upon us, book-ended by the Rugby World Cup in 2019 and the Kansai World Masters Games in 2021. Hosting such large-scale international competitions three years in a row will no doubt attract public attention on an unprecedented scale for Japan and will certainly get Japanese people more interested in sports.
Meanwhile, innovations through digital technologies offer great potential for enhancing productivity. Acutely aware of the need to stay abreast of such developments, the Renaissance Group actively fosters collaboration that transcends business categories and industries, focusing on utilizing IT and other cutting-edge technologies to improve our interactions with customers.
Further, the Ministry of Economy, Trade and Industry (METI) has launched a certification system to increase the value offered by the service industry in Japan. The aim of this system is to visualize the quality of services provided by businesses in the service industry based on four goals, thereby improving the productivity of the service industry—thus simultaneously increasing both inbound and outbound tourism. Renaissance has been awarded the navy blue certificate for its 98 branches nationwide. This high recognition was attributable not only to our efforts to respect the desires of our customers, but also to our continuous measures to nurture the development and growth of our employees such as improving our manuals and training systems and holding customer service competitions.
As a company in the business of sports, we have high hopes that we will play an even bigger leadership role in expanding the sports market and getting more people playing sports. Companies such as Renaissance also need to address globalization while taking advantage of constant advances in technology. With greater growth opportunities on the horizon, Renaissance will continue helping to improve people's health and promote sports, while never forgetting its founding dream.
Toshikazu Saito
Representative Director and Chairman
Message from the President
In fiscal 2017, the final year of the RENAISSANCE Group's three-year medium-term management plan that began in 2015, we laid out a bold policy of "Switching our business model which currently revolves around sports clubs to a more complex one—with health as a keyword." We have been endeavoring to create more growth generators with the following focuses: (1) improving sports club business profitability; (2) entering into the nursing care and rehabilitation businesses; (3) developing new style facilities; and (4) participating in concerted health promotion activities fostered by local and central government bodies and corporations and health insurance societies. And these efforts have paid off, resulting in record profits.
In our latest three-year medium-term management plan beginning from fiscal 2018, we have positioned the next three years as the time to ensure the growth of our existing businesses while actively investing and taking on challenges to start new ones.
In order to ensure the growth of our existing businesses, we have strived to maximize profits and realize our goal of "Bringing health to communities nationwide!" not only through our core business of comprehensive sports clubs, but also by combining other styles of facilities. Since our previous medium-term management plan, we have addressed these other focuses such as developing new style facilities, taking part in health promotion activities fostered by corporations and government bodies, and entering into the nursing care and rehabilitation businesses. Now, we plan to accelerate our efforts in these business areas with the aim of expanding their scale.
Renaissance will also actively address the generation and development of new businesses. We will use our accumulated experience to enter new markets and develop new products and services, while striving to generate a number of "sprouts of business" that are free from existing concepts, thereby aiming to stimulate further growth.
For these endeavors, we look forward to the continued support of all of our shareholders in the days to come.
Masaaki Yoshida
Representative Director, President,
and Corporate Officer