Message from the Leader
To our Shareholders and Investors
We extend my heartfelt gratitude to all our shareholders and investors, who have consistently shown our businesses their understanding and support and who have shown great favor to our sports clubs and other facilities.
Message from the Chairman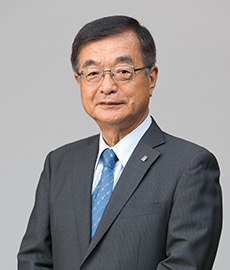 Coming from a background as a chemical engineer for DIC Corporation (then Dainippon Ink and Chemicals Incorporated), I planned a tennis school with eight-court indoor coat as an in-house venture project, and founded RENAISSANCE Inc. in 1979.
Our founding spirit embodies the idea of "realizing the ideal society by providing the guests with health, a source of energy and passion, with the goal of revitalizing humanity in an overly controlled and material-centered society." Our company name and its facilities were given the name RENAISSANCE out of a view that the Renaissance period — a period of arts revitalization that occurred between the 14th and 16th centuries in Europe — was a revitalization of humanity. The 1980s marked the dawning of the sports club industry in Japan, a leisure industry that was mostly the domain of younger people. Middle-aged women started taking part in the 1990s, and there was a sharp rise in participation by seniors in the 2000s. The sports club has transformed into a place to achieve better health.
Japan's excellent performance in the 2016 Olympics and Paralympics in Rio de Janeiro caused a ripple of excitement in Japan. The 2020 Tokyo Olympics and Paralympics are almost here, book ended by the Rugby World Cup in 2019 and the Kansai World Masters Games in 2021. Having such large-scale international competitions held three years in a row will no doubt be a movement of unprecedented scale for Japan, and will certainly get Japanese people more interested in sports.
The Japan Sports Agency, established in October, 2015, is working to bolster Japan's sports competitiveness. It has a number of programs in the pipeline, including improving citizens' health through more sports activities, revitalizing communities and economies through sports, and providing more opportunities for children to get athletically involved. As a company in the business of sports, hopes are high that we will play an even bigger leadership role in expanding the sports market and getting more people playing sports. The RENAISSANCE Group will be focused on growing its existing businesses and expanding its business lineup in an effort to foster collaboration that transcends business category and industry and otherwise meet the needs of society.
Through our businesses, we will continue helping to improve people's health while promoting sports, never forgetting our founding dream.
September 2016
Representative Director and Chairman
Toshikazu Saito
Message from the President
Since the RENAISSANCE Group's three-year medium-term management plan beginning from FY 2015, we lay out our bold policy of "try to switch from sports club single project to diversification of business with health as a key word". Our three priorities will be: (1) improving sports club business profitability, (2) creating more growth generators, and (3) human and organization creation that enables sustainable growth.
In our sports club business, we will continue efforts aimed at expanding our member base with sights set on making people who are involved in the Renaissance happy. The period ending March 31, 2016 saw us set a new record for member numbers and our swimming schools, for the first time ever, hit the 100,000 member mark in October. School members belonging to athletic courses have grown to 4,000 people, and our top-level certified athletes have achieved great successes in both Japan and on the international stage. We have strong hopes for many athletes to make it to the Tokyo Olympics in four years, including athletes with the potential to win medals.
As a means to create new growth generators, we will maintain a focus on expanding our Genki Gym nursing care and rehabilitation business, while also developing a new business type involving standalone studios with various concept, engaging in health promotion businesses with national and local municipalities, and collaborating with companies in other industries.
In order to develop and build the organizations that will help us achieve sustainable growth, we are working to bolster our corporate governance using our newly-formulated Corporate Governance Guideline as we focus on maximizing corporate and shareholder value for the medium- to long-term. One of these measures involves promoting women in the workplace with our Diversity Promotion Team. We have published related targets for 2017, an intermediate point on the road to achieving our 2020 targets. Also, in my new capacity as the company's CHO (Chief Health Officer), I will be setting the course for our health management strategies.
This will involve putting together five working groups that will, among other things, focus on work-style reforms and productivity improvement as part of efforts to reinvigorate our organizations.
For these endeavors, we hope for the continued support of all of our shareholders in the days to come.
September 2016
Representative Director, President and Corporate Officer
Masaaki Yoshida