About RENAISSANCE
About Renaissance
Message from the President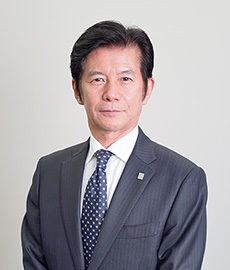 Based on a vision of functioning as a "company for creating purpose in life" to propose healthy, enjoyable lifestyles for customers, RENAISSANCE INCORPORATED runs comprehensive sports clubs nationwide, helping to promote the health of people all over Japan.
From 2018, the Renaissance group has a long-term vision of becoming a "sports and health solution company that is demanded and needed in Japan, Asia and the entire world, which is based on our experiences as a sports club operating company." and try to expand the business field.
Japan's rapidly changing demographics are bringing unprecedented social upheaval like the cost of social insurance is only going to increase for the coming super-aged society becomes a big problem ahead of developed countries.
Besides that, new social problems arise such as secondary health damage mainly due to lack of exercise and dilution of society because of the expansion of COVID-19.
We utilize our know-how of health promotion that we have cultivated so far and work on to solve social problems in addition to the sports club business which is our core business, make the health care business with long-term care rehabilitation and support local government bodies and companies in their health promotion activities as the second pillar.
Renaissance would like to ask customers for their continued and steadfast support as we continue to make further contributions from now on through various challenges.
Toshiharu Okamoto
Representative Director, President,
and Corporate Officer