CSR
Corporate Social Responsibility
Social action program
At RENAISSANCE, we take pride in the way that our main business helps promote maintenance of the most important thing for people, good health. However, society seeks the creation of multi-faceted value in modern times, and for this reason, we feel it is necessary to not just achieve results but also conduct activities where the actions themselves contribute to society in some way. We consider it important to make effective use of the technology, facilities, knowledge, information, and personnel we have accumulated through our main business to continue proactively developing activities that contribute to society.
Global warming countermeasures
At RENAISSANCE, by running our facilities in an environmentally friendly way, we are contributing to the prevention of global warming. In the management of each facility, the rationalization of energy use is progressing, and we are aiming to achieve low-energy operations. By eliminating unnecessary energy use, we are implementing an environmentally friendly and ecological Green Renaissance Project.
Implementation of LED lighting
Each of our facilities uses the latest LED lighting.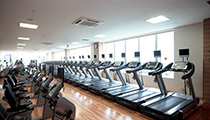 Training gym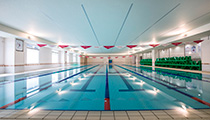 Pool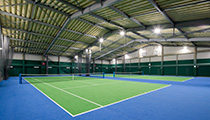 Tennis courts
Temperature management in the gym area of our sports clubs
Air temperature inside the facility is managed on a seasonal schedule as shown below, to carry out energy reduction.
Gym temperature



*In the sports club facility areas, there are a variety of other initiatives in place in addition to this temperature regulation, and we are carrying out energy reduction activities with the cooperation of all of our users.
Preparing for the future of the sports and health industry
Initiatives for Health Education
Our Fitness Education Research Institute works together with universities, medical institutions, and other various organizations to conduct studies and develop products for maintaining and improving physical function and preventing illness. Renaissance is committed to a broad range of personnel development activities. We do consulting work for educational organizations and run seminars and training sessions for instructors and trainers with the goal of making these jobs attractive so that they want to continue for the rest of their lives. We believe these efforts will contribute to a flourishing future for the sports and health industry.
[Related link]
Starting initiatives from familiar things
Examples 1) Reuse activities for tennis balls
The tennis balls used at the indoor tennis schools run by this company at locations all over the country are being contributed to elementary and middle schools for reuse through a cooperative initiative with the NPO Global Sport Alliance.
In order to maintain a certain level of quality at our company's schools, new tennis balls are purchased every two months, and as a result, large numbers of used tennis balls that were still in good condition needed to be disposed of.
By simply attaching these tennis balls to the legs of desks and chairs, friction sounds against the floor are greatly reduced, making the classroom quieter. This in term improves the study environment for children, helping them to concentrate more. This initiative has been very well-received.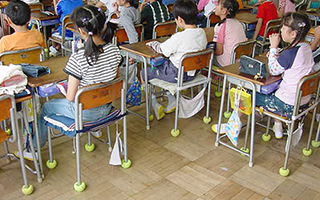 Example 2) Recycling station for used cooking oil: "Rene" Oil Field
Through a TOKYO Yuden partner collaboration contract with Youse Co., Ltd., RENAISSANCE has set up used household cooking oil recycling stations called "Rene" Oil Fields at Sports Club Renaissance within the Tokyo metropolitan area.
Used oils are usually disposed of as garbage and often incinerated, and in some cases simply poured down the drain, which can cause pollution of rivers. By having households bring in this unneeded used oil to our recycling stations, we provide an ecological activity that's familiar to people and also raise awareness for environmental preservation.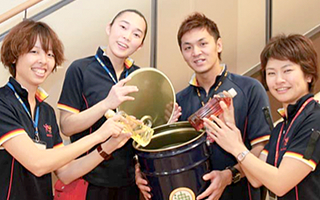 [Related link]
Overseas initiatives
Example 1) Donating schoolbags to children in Afghanistan
In July 2010, the designated bags for junior swimming school students were updated, and based on a suggestion made by staff, we gathered up the bags used up until that point and considered methods for making effective use of them. By setting up pop-up displays at each of our club facilities, we launched a recycling drive for the old bags and gathered over 3,000 of them. After confirming their condition and checking for stains and the like, they were delivered to children in Afghanistan through the NGO Japanese Organization for International Cooperation in Family Planning (JOICFP). The children used them as bags for storing their study materials and school supplies, and we received photos of them happily wearing their new bags. Seeing the smiles on the Afghanistan children's faces was very moving for our staff as well.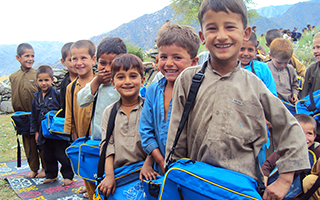 Example 2) Donating helmets to children in Vietnam
In July 2014, RENAISSANCE VIETNAM INC. was founded as a total subsidiary, and a sports club was opened in Binh Duong Canary, at the same time, we donated 250 helmets to elementary and middle school students in the area. In Vietnam, it's common for children to ride scooters and motorcycles with their parents without wearing a helmet, and this initiative was launched in an attempt to do whatever we could to reduce the accidents and injuries resulting from this practice after our staff saw it and felt it was incredibly dangerous.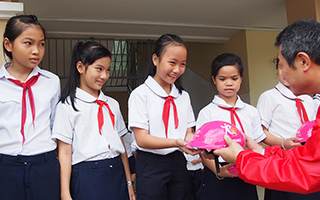 Disaster prevention measures
Preparing for disasters
We wish to express our deepest sympathy to all of you affected by this disaster and the ensuing aftershocks.
Out of this company's facilities, the two sports club locations within the Kumamoto city limits were affected by the earthquake, and had to be closed temporarily. We worked to restore them as quickly as possible, and after opening the bathing areas only for limited service, the Kumamoto Minami Club reopened on April 25th, and the Kumamoto Club reopened on April 26th. Although there were some areas where usage was still limited, in the end, both clubs were back to normal operations within one month.

At our company, we have intensified our training related to ensuring guest and employee safety and reopening locations rapidly, based on the experiences of the Great East Japan Earthquake. When the disaster occurred, approximately 60 different locations were affected, and our facilities in the Tohoku region suffered an especially large amount of damage, including stopped lifelines and conditions that many people had never experienced before. However, all members and employees were safe, and gave us the courage to move forward. Because the bathing areas were undamaged, they were provided for use by the community members as a gesture of our hospitality. The foodstuffs we delivered from various areas were also a huge relief for our employees and their families affected by the earthquake, and these initiatives built a feeling of togetherness.
Moving forward, we will continue to prepare for all possibilities and strengthen our safety management systems and run our facilities so that all of you can continue to work toward creating health in your own lives with complete peace of mind.
Main Initiatives
Implementing training with self-defense forces and firefighters
Implementing training for handling emergency situations and using the AED device
Implementing preventing measures to keep furniture from overturning
Establishing emergency use cell phones, contact network systems, disaster prevention equipment, and emergency stocks
Introduction of disaster relief vendor initiatives (making vending machines free in the event of a disaster)
Systems for quick restoration and reopening of facilities through cooperative relationships with clients