About RENAISSANCE
About Renaissance
Business Overview
Flexibly Making Connections
Connecting to health for every person.
Based on our corporate philosophy we position our sports clubs as its core business, while also expanding its fields of operations in a coordinated manner, as a means to respond to diverse needs of community members.
Moving forward, by extending assistance to sports promotion and health improvement, we will continue to connect with people from all generations in a variety of situations, while assisting each individual with improving their personal health.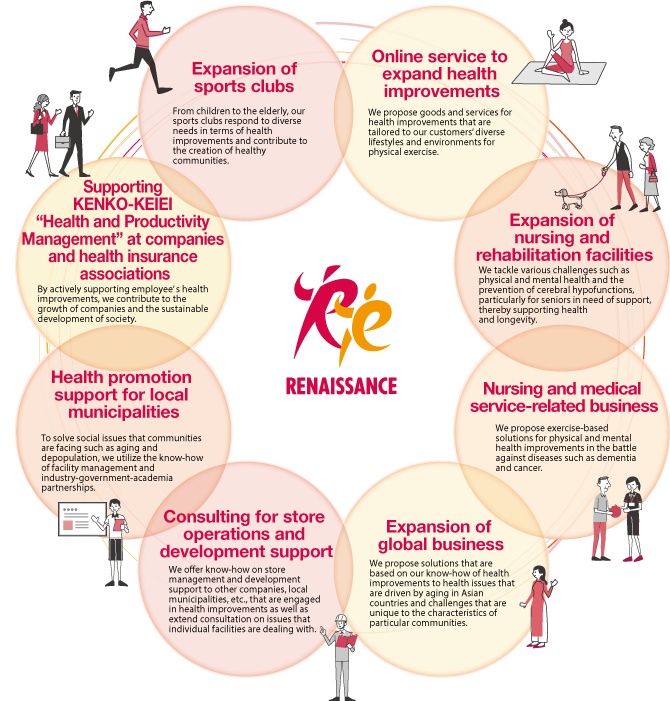 <Introductions of Our Business>
Expansion of sports clubs
This forms the core of our business, and we aim to provide facilities and services that can be used by community members in a wide range.
Nationwide expansion of "Sports Club Renaissance" composite facilities
Expanded to approximately 100 locations nationwide. In addition to facilities such as gyms, studios, pools, tennis courts, and golfing ranges, these clubs are also equipped with a full range of relaxation equipment such as saunas, baths, Jacuzzis, and massage chairs.
Through the expansion of members-only fitness clubs, adult schools and junior schools, we support the health improvement of people in all generations, providing a place for sports-lovers ranging from children to senior citizens in areas all over the country to gather, as well as all skill levels from beginners to top-level athletes.

Expansion of "Coqul RENAISSANCE" urban fitness clubs with direct connection to train stations
In May 2017, a new style of urban fitness facility will open on the 13th and 14th floors of the JR Gate Towering directly connected to Nagoya Station. With features like the latest cutting-edge technology incorporated into group exercise lessons such as a new kind of cycling program using virtual reality (VR) technology, a spa lounge area that will leave you feeling completely relaxed, and more, we will provide a space where each individual guest can spend time in their own style.

Support for companies and communities
Through coordination with companies, insurers, and municipalities, we are carrying out initiatives using Health and Productivity Management and data health planning for supporting health improvement in the working generation and the elderly, in the form of preventive care programs.
Health and Productivity Management support for companies
Based on the major changes in the environment of Japanese domestic society, we are expanding our Health and Productivity Management and data health initiatives and expect to achieve effective applications of these initiatives in the insurance field.
At RENAISSANCE, we are working to promote health improvement from the working generation on to after retirement and beyond through linked initiatives with companies, insurers, communities, health support businesses, and other organizations. At all our facilities in Japan, specialized staff such as exercise instructors are on hand to support effective, correct, and fun health improvement for our members.
Support for improving the health of community member health
As the super aging society within Japan continues to progress, social security costs are increasing year by year, and there is a growing need for health improvement among the elderly. Also, in terms of regional preventive care and composite support for daily life initiatives, there is a need for expanding specialized projects that fit the characteristics of the region.
At RENAISSANCE, we assist organization in various areas with solving their unique problems through health improvement support, enabling the municipalities of these areas to be healthy and energetic in their daily lives.
Support for nursing care and rehabilitation
Expansion of "Genki Gym" exercise-specialized day service
"Genki Gym" is a rehabilitation-specialized day service facility focused on improving physical function. In addition to effective and fun group exercise led by specialized preventive care instructors, these facilities also offer our "Synapsology" brain activation program for supporting the prevention of cognitive function decline, and a selection of training machines for use in functional improvement. Also, nursing staff and caregivers are available for consultations related to health and care, and our goal with these facilities is to create a familiar health care service base for the community. Franchise expansions are also currently underway, and we hope to further support health improvement for both the mind and the body of all people in various communities in the future.
R&D and human resources training
Activities for spreading the "Synapsology" brain activation program
In order to activate brain function, it's essential to repeatedly provide sufficient stimulus to the brain, and if this is done as a fun activity participants will want to do, that makes it even more effective.
Synapsology uses unfamiliar movements which require you to do two things at the same time, with your right and left sides doing different movements, to provide the right amount of confusion for your brain. This makes for an effective stimulus, and can improve brain function, according to advice received by RENAISSANCE from a neuroscience professor. This proprietary program was developed based on that advice.
Currently, this program is used at a variety of facilities such as day service facilities, paid nursing homes and other nursing care service providers, preventive care projects run by local municipalities (cognitive decline prevention seminars, etc.), and dementia cafés. The program can be implemented for organizations and groups, or individual employees or staff members can get an instructor certification to run sessions themselves.

Expansion of small-scale facilities
Expansion of fitness facilities exclusively for women
We are currently expanding our "Demi RENAISSANCE" fitness studio locations, pleasantly aromatic studios which provide programs such as yoga and Pilates, and can be found in Tokyo near train stations. In the suburbs, we are expanding our "Burnista" locations, a community-based facility that lets you stop by on your own pace and schedule and take lessons feeling you're right in your own home. Also, other facilities such "Prier Jiyugaoka," a private salon which provides one-on-one aroma beauty treatment and Kaatsu training, give women a place they can relax and enjoy using.
Expansion of "CYCLE & STUDIO R" facilities combining entertainment with fitness
Located one minute from Shibuya Station, "CYCLE & STUDIO R Shibuya" has now opened as a new kind of workout studio providing programs designed by "Les Mills," a global leader in fitness program development.
"VR Cycle," software that lets you enjoy riding through overwhelmingly beautiful images, has come to Japan for the first time, and a second program called "LIVE Training" that pairs your workout with music for more serious training is also available.
In a stylish space unlike your normal everyday life, you can enjoy a new style of training.

Expansion overseas
Considering the high expected growth potential of Asia as a strategic market, A complete subsidiary of RENAISSANCE, "RENAISSANCE VIETNAM, INC." was founded in June 2014.
Currently, we have expanded into the Binh Duong industrial district near Ho Chi Minh City, as well as within the Hanoi city limits, using RENAISSANCE's knowledge and quality to develop superb fitness club and swimming school facilities.

[Related link]
[Related link]
Support for health education
We work together with universities, medical institutions, and various other organizations on research and product developments to maintain and improve physical functions as well as disease prevention. In addition, in order to develop people with specialized skills that are required for the delivery of our products, we provide consultations for educational institutions, host various seminars, as well as plan and manage training courses.
Support for store development
we provide proposals related to facility types and various optional facilities for use inside and outside of our industry, specializing to suit the applicable locations, site area, and community characteristics involved.
Also, through consigned management of both public and private exercise facilities, we support revitalization of communities and rural areas.
Providing support for facilities and equipment suited to the characteristics of the site and the community
In accordance with the locations and characteristics of a variety of areas within Japan, we offer proposals concerning facility types, and total management from facility plans to maintenance and renovation after opening.
Standard facilities and equipment are available as a matter of course, and we also provide a wide-ranging lineup to suit the various needs of people in different communities.

Contracted administration of both public and private exercise facilities
For management of local municipalities' sports facilities within Japan, we use our knowledge from sports club and health care business to help extend the healthy life expectancy and revitalize the surrounding communities, supporting problem solving for local municipalities.
Using RENAISSANCE's abundant experience with comprehensive consulting, facility renovation planning, contracted management operations, and provision of programs, we can deliver order-made support for all kinds of fields.