About RENAISSANCE
About Renaissance
Business Overview
Flexibly Making Connections.
Connecting to health for every person.
Based on our corporate philosophy of being a "Company to create something to live for," we position our sports clubs as our core business, while also expanding its fields of operations in a coordinated manner, as a means to respond to the diverse needs of community members.
By extending assistance to sports promotions and health improvements, we will continue to connect with many people from all generations in a variety of situations, while at the same time assisting individuals with creating something to live for.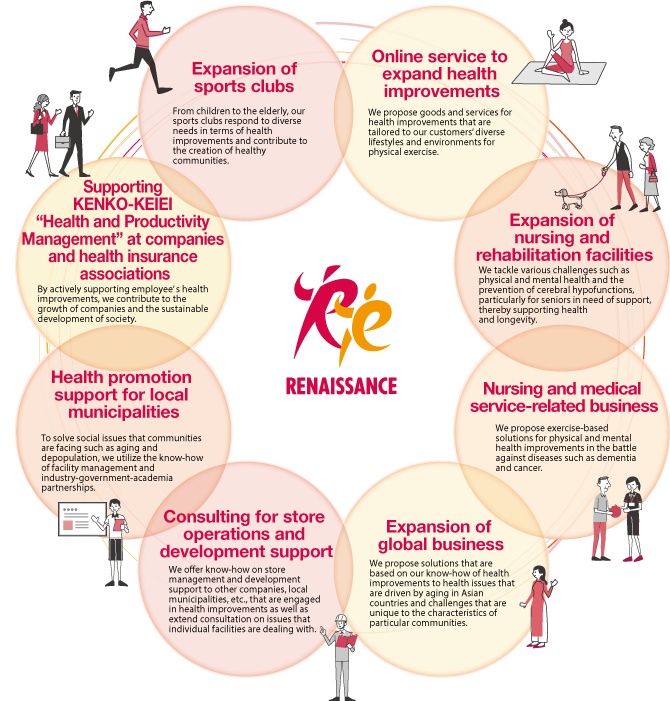 <Introductions of Our Business>
Expansion of sports clubs
"Sports Club Renaissance": Forming the core of our business
"Sports Club Renaissance" has gradually expanded to approximately 100 locations in Japan. In addition to facilities such as gyms, studios, pools, tennis courts, and golf ranges, these clubs are also equipped with a full range of relaxation equipment such as saunas, baths, Jacuzzis, and massage chairs.
To adhere to the slogan of "Making the community healthy," "Sports Club Renaissance" supports health improvement for people from children to senior citizens from beginners to top-tier athletes in all areas across the country.
Easy/safe/convenient 24-hour fitness gym "Gym & Studio Renaissance"
A fitness gym with a comfortable atmosphere, where beginners can visit with a sense of "My pace & My space".
The gym can be used around the clock and members can be worn in with outdoor shoes. Trainers offer advice on exercise that are tailored for each guest.
The studio program has a lineup of selected in-trend exercises, thereby enabling guests to enjoy them for a long period of time.
A space with desks is available at the facility, where each guest can freely spend their own time.
Studio-style fitness facilities exclusively for women
Developing facilities exclusively for women that cater to female sensibilities and that also allow for participation in classes with complete peace of mind, we provide a variety of programs that are tailored to female guests, including working women with children and those who strive for physical and mental comfort. We are expanding various facilities, such as "Demi RENAISSANCE" (a yoga fitness studio), "Burnista" (a fitness studio for casual use by women), and "Prier Jiyugaoka" (a kaatsu training and beauty treatment private salon with a free childcare service).
GROUP WORKOUT STUDIO "BETTER BODIES HI AOYAMA"
This is a group workout studio for maximizing results through highly efficient training in short periods of time. Our slogan is "We can change your body and your lifestyle."
The main target guests of the studio are business people in their thirties and forties who are earnest about self-improvement and self-investment. They care about their individual values and lifestyles, as expressed by phrases such as, "If you want to change, do it your own way," or "I want to take on things that match my own style."
In addition to the 45-minute workouts using original machines, the studio is elaborately designed and offers original goods, protein drinks, and food so that the guests can engage in training while fulfilling their smart lifestyles as an extension of their daily life.
Exclusive fitness club "Coqul RENAISSANCE"
Opened in May 2017, "Coqul RENAISSANCE" embodies a new style of urban fitness facility located on the 13th and 14th floors of JR Gate Tower, which is directly connected to Nagoya Station. In addition to the sheer convenience of the location, this complete space features training machines with all of the latest cutting-edge technology, the latest group exercise lessons, and a relaxing spa lounge.
Online business to expand health improvements
This online lesson service enables exercises to be enjoyed through a PC or a smartphone from the comfort of your home.
Real-time Lessons are given by instructors active in "Sports club Renaissance".
It is possible to choose exercises from a wide range of programs including yoga and Pilates as well as martial arts and dance-based exercises.
We create opportunities where participants can develop a connection with instructors and friends outside the facility through enjoyable exercises, supporting health improvements for many people.
Nursing and rehabilitation facilities
Toward a healthy and longevity society
"Genki Gym" day care service facilities specializing in rehabilitation
Combining exercises, functional training with rehabilitation specialists, and a wide selection of the latest machines, it is a rehabilitation exercise-specialized day-service facility with a fitness club touch. Through the rehabilitation program at "Genki Gym," we work to energize the bodies and minds of elderly participants, preventing cognitive decline and other aging-related issues, thereby supporting these very people to be able to walk by their own feet and enjoy a rich life for the rest of their lives. Equipped with the know-how of sports club operations for more than 40 years, RENAISSANCE proposes unique solutions toward a healthy and longevity society.
[Related link]
Support of health improvement at companies and health insurance associations
Health and Productivity Management and data health initiatives are widespread mainly among companies and health insurance associations, and expected to achieve effective applications. We support Health and Productivity Management of more than 1,300 companies and health insurance associations.
* KENKOKEIEI "Health and Productivity Management" is a registered trademark of the Nonprofit Organization Kenkokeiei.
Health promotion support for local municipalities
Through town planning that involves attractive and easy-to-live-in communities on the theme of health by supporting health promotion projects and facilities management (such as designated administrator system, PFI projects, and outsourced management operation of private facilities), we contribute to solving various social challenges that communities tend to face.
Business creation in the healthcare domain
"SYNAPSOLOGY®" brain activation method
We are now promoting a new a method called "SYNAPSOLOGY ®", which we developed, provides new stimulus to the brain in order to activate its functions. While doing basic actions, SYNAPSOLOGY® vitalizes one's brain by applying and varying stimuli through the eyes, ears, skin, and other sensory organs as well as those to cognitive functions such as language, memory, and visuospatial ability. When this is done as an enjoyable activity with multiple participants, the part of the brain that is related to emotions can be vitalized. As a result, not only improvements of cognitive and motor functions can be achieved but also reduced anxiety.
Currently, this method is used at a variety of facilities and organizations such as fitness clubs, nursing care service providers, community support service providers run by local municipalities, private companies, sports teams, educational facilities, and medical facilities. The implementation of this method for organizations as well as obtaining an instructor certification by individuals are also promoted. This method has started to spread in South Korea.

[Related link]
Support for health education
Working together with universities, medical institutions, and other organizations, we are engaged in the research and product development related to the maintenance and improvement of physical functions and disease prevention. In addition, for the purpose of raising specialist human resources, we plan and manage consulting services for educational institutions as well as various seminars and training courses.
[Related link]
Support for store development
We provide proposals related to facility types and various optional facilities for use inside and outside of our industry, specialized to suit applicable locations, site areas, and any community characteristics involved. For facilities, we offer total management, from facility planning to maintenance and revamping after opening. To provide facilities and equipment to meet all the diverse needs of people in individual communities, in addition to the provision of standard facilities and equipment, we offer a comprehensive lineup.
Providing support for facilities and equipment suited to the characteristics of the site and the community
In accordance with the locations and characteristics of a variety of areas within Japan, we offer proposals concerning facility types, and total management from facility plans to maintenance and renovation after opening.
Standard facilities and equipment are available as a matter of course, and we also provide a wide-ranging lineup to suit the various needs of people in different communities.

Contracted administration of both public and private exercise facilities
For management of local municipalities' sports facilities within Japan, we use our knowledge from sports club and health care business to help extend the healthy life expectancy and revitalize the surrounding communities, supporting problem solving for local municipalities.
Using RENAISSANCE's abundant experience with comprehensive consulting, facility renovation planning, contracted management operations, and provision of programs, we can deliver order-made support for all kinds of fields.

Global expansion
We established subsidiary RENAISSANCE VIETNAM, INC. in Vietnam as a start to entering ASEAN countries. We develop directly-managed fitness club and swimming school through taking advantage of experience and expertise.
[Related link]
[Related link]